The Tomb
Julia's Tomb at the Cathedral
Favors Received Thru Her Intercession
As part of the local phase of Julia's Cause for Canonization, her body was exhumed at Mt. Olivet Cemetery in Wheat Ridge, Colorado, and moved to the Cathedral Basilica of the Immaculate Conception in Denver. This was done, both to identify her body and to make its resting place more easily accessible for the faithful so that they might bring their prayers for her intercession there.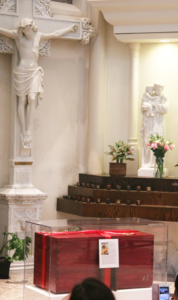 Julia's bones were placed in a funerary box made of exotic red heart wood, which will later be encapsulated in a sarcophagus made of Caralla marble, the same stone used by Michelangelo for his statues of the Pieta, Davis, and Moses.
Julia's friends can find her tomb, near the altar of the Sacred Heart in the northwest corner of the sanctuary, and they are invited to visit and spend time there in prayer.
You may wish to use the following prayer, approved on June 29, 2017, by Archbishop Samuel Aquila of Denver, for private use:
Heavenly Father, your servant Julia Greeley dedicated her life to honoring the Sacred Heart of your Son and to the humble service of the poor. Grant to me a generous heart like your Son's, and if it be in accordance with your holy will, please grant this favor I now ask through Julia's intercession (insert intention)… I pray this through Christ our Lord. Amen. 
Please  report in writing any favors received through Julia's intercession to juliagreeleyguild@gmail.com or sent them to Julia Greeley Guild, 1535 N. Logan St., Denver CO 80213.
Some testimonies thus received by the Guild can be read below.
___________________________________________________________________________
TESTIMONIES
I believe I was miraculously healed with the help of Julia Greeley. In November of 2016, I found out for the third time in my life there was a cancerous tumor growing inside me. It was in my pelvis this time, left side. So for the third time I turned to Julia in my time of need.  At the beginning of December my friend sent out an email to many friends and asked them to pray a novena to Julia Greeley, Dec. 9-17, 2016, to ask for healing for me. Many people told me they prayed the novena. My family, my friend's family, and others that prayed the novena attended the Mass on Dec. 18 at the Cathedral.  After consulting with many doctors, my course of treatment would be chemotherapy, then surgery. So I started chemo in December and finished in April 2017. On May 30, my husband and a I met with doctors at Mayo Clinic to discuss surgery. I had an MRI in the morning and met with the surgeon in the afternoon, the surgery he described was a hemi-pelvectomy [which involved the amputation of the left leg]. My husband and I knew confidently and felt peace with knowing that surgery was not for me. I returned to Denver a bit frazzled and seeking a Plan B for getting rid of my cancer. After meeting with doctors, I was going to have a cryoblation [freezing of the tumor], so prior to that procedure the doctor ordered a new PET scan. On July 6, 2017, I had the scan and the results were miraculous — no evidence of cancer. The tumor was gone. Praise God! Thank you Servant of God Julia Greeley. Thank you to my sisters and brothers in Christ for your fervent prayers.  — Karen M.
_____________________________________________________________________
I prayed for intercession to Julia Greeley to save my sailboat in Dinner Key Marina in Miami during hurricane Irma, and my prayers were answered. Half the boats in the marina were destroyed, but my boat was saved and only had very minor hull rubs from the pillions. I feel so grateful to the Lord and to Julia, I am a lucky man, but I also feel my luck was "made" by her intercession. There was a calm and spirit about me as I prayed to her that I felt was Holy. Thank you for the prayer card I received in Denver on my visit to my sister during the storm, so I could know of her goodness and power with the Christ our Lord.  — Mike R. 
_____________________________________________________________________
I recently attended the ceremony for Julia Greeley's remains, and my daughter kissed the box with her remains inside. I have four kids. Usually they're always with me at such rare religious Masses and events. I like them to be included to understand my Catholic beliefs. On the 13th of June we were visiting my mom at her hotel pool. We had the scare of our lives. My daughter drowned. I'm not sure how long she was under, but when we got her out she was blue, swollen and foaming at the mouth. She also had a bowel movement, all while unconscious. I thought she was dead. My family and I panicked. I took her to the hallway of the hotel and found a man B……, his sisters, and mother. He helped me try to resuscitate her.  It took over 7 minutes before she threw up. She still wasn't awake; that took longer. We got to the hospital. I was unsure about how long she was unconscious, but I know it was over 7  minutes. Her lungs were completely clear, and after 24 hours she was 100% herself. While we were there in the hospital, she said an angel was with her– a white angel, which reminded me of Julia Greeley, how she talked about a white angel. When my mom got home, there was a letter from the family that we ran into in the hallway. The man B…… tried to kill himself. After seeing my daughter, he realized there was a reason to live. I believe it was God, Julia Greeley, or both who saved my daughter and B……  –Jane M.
_____________________________________________________________________
Yesterday I started having abdominal pain in the afternoon. By midnight I was in so much pain I thought I was having a gallbladder attack. I laid down on the couch just praying for healing. The pain got worse, so I went into the emergency room at a  nearby hospital. The pain went away as soon as I had a room. So I did not need the narcotic pain killer the doctor had ordered. They did a CAT scan and said that I needed surgery right away due to a bowel obstruction. By this time it was 3 a.m. I had an intestinal perforation seven years ago, and my surgeon had said that no one was to operate on my abdomen without calling him first.They called him and he hadn't called back two hours later. I asked Julia to pray for me and tell him to call the hospital. I also asked that pain and bowel obstruction be reversed. Well he called, although he was in Kansas at the time. The emergency room surgeon decided to do another CAT scan to study the obstruction. The new scan showed no obstruction! There were three miracles. The pain left although I had not taken any drugs, my surgeon called in time, and the second scan showed no obstruction. I praise GOD and Thank Julia for her intercession. I know she was working to see me through this traumatic experience and saved my life!  –Fannie E.
---
My friend Diana, who had pancreatic cancer, passed away yesterday morning. We gathered at her bedside to pray the Rosary and Divine Mercy Chaplet every afternoon at 2:30. I took along my copies of Julia Greeley's prayer card that I had printed out and asked her if we had her permission to include her prayer as well, she said yes immediately. I also asked the Servants of the Blessed Sacrament sisters and the Poor Clare sisters here in town to pray the Julia Greeley prayer for her intercession that if it be God's Holy Will that she be healed. — I feel Diana, like Saint Therese (her confirmation Saint), is doing good for us here on earth after her death. America Needs Fatima and the Pro-Life movement, areas that she was most committed to. Diana's physical healing through Julia's intercession was not to be, but now more people here in Pueblo know of Julia and for that I'm grateful. I just realized that Diana has now met Julia, and that is a comfort to me. My son Thomas turns to her and she has helped him every time. He and I are very grateful to her.  –Connie D.
---
I believe I received a miracle thru Julia's intercession…I received the Julia Greeley prayer card – at the time, I was experiencing difficulty nursing.  I had a blocked duct, and usually it clears up and everything's o.k., but this time the milk wasn't coming back on this one side.  I prayed for her intercession and it did clear up.  My son, Michael was 4 mo. old at the time.  He was really showing hunger and I was so relieved.  –Sherri [full name on file at Guild office]
---
My husband, Matt and I tried for several years to have a child.  During that time, he was in formation to be a Secular Franciscan and he learned of Julia Greeley.  We had no idea how important she would become to us.
In November of 2010 we came to have an infant placed in our care through the Department of Human Services even though we were not licensed as foster parents.  At that time we were told it would probably be a permanent placement and we would be allowed to adopt him.  He stayed with us for just over six months before it was deemed appropriate to place him back in his mother's custody.  We were sad that he was gone but realized it was not God's plan for us to have this child.  Shortly after he left us, we went to the grave of Julia Greeley.  I knelt at her graveside and asked, if it was God's will for us to have a child, that Julia would pray for us.
Honestly, I didn't really give it much thought after that.  We decided to go through the process to become licensed foster parents.  Our plan was to be foster parents and did not think we would adopt.  Of course, we were open to the idea if the right set of circumstances presented themselves but we were not going into it with that expectation.
Then, in March of 2012 we heard about a little girl and her baby brother who were available for adoption.  We met her and fell in love with her so we said that we would like to adopt her.  Then the caseworkers said that there was a family member who wanted to take both children so we didn't think we were going to get them.  Then they said maybe we would get them after all.  Then they said there was no way we were going to get them.  It was an emotional roller coaster.
Then, suddenly we got a phone call that they wanted to move forward with placement of the little girl into our home…the next day!  That night I barely slept and the next morning I got out of bed with so much excitement I couldn't eat.  Suddenly, out of the blue I had this feeling that I should look up Julia Greeley online.  When I did, what I saw stopped me in my tracks.  The date was June 7…the date that Julia died.  We were getting our little girl on the same day that Julia Greeley entered into eternal rest.  I could barely believe it.
Shortly after that day, Matt and I visited her grave again.  When I knelt at her graveside this time, I was suddenly overcome with emotion and sobbed as I thanked her for her prayers.  I also asked her for more prayers as we are still waiting for the baby brother to be allowed to come to live with us.
When the adoption is final in December 2012, our little girl will have a new name.  Her new name is Maryn Julia, in honor of and thanksgiving to Julia Greeley for her hand in our being blessed with this child.
Please feel free to use this testimony on your website.
God bless you for telling her story!  –Michelle   [full name on file at Guild office]
_____________________________________________________________________