The Book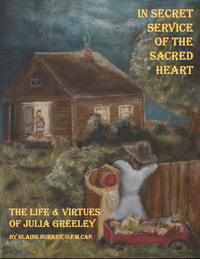 The most thorough compilation of the facts of Julia Greeley's life have been published in a new book by Fr. Blaine Burkey, O.F.M.Cap. The book, In Service of the Sacred Heart: The Life and Virtues of Julia Greeley, recalls the memorable stories and events of this remarkable woman by those who knew her best.
The book is now available for purchase in various ways. Pick up in person at a Denver Catholic book store or the Capuchin Provincial Offices (3613 Wyandot St.).
Order online from the Capuchins' Online Store (capuchins.org/store.html) or the Josephite Pastoral Center (josephitepastoralcenter.org/product-category/books)
Order by mail from the Julia Greeley Guild by printing out order form (linked to Greeley form.pdf) and mailing it with $20.00 check made out to "Julia Greeley Guild" to Cure d'Ars Church, 4701 Martin Luther King Blvd. Denver, CO 80207. This will cover the cost of the book, sales tax, and domestic shipping.
What others have said about In Service of the Sacred Heart:
"This long and fruitful labor has uncovered for Rocky Mountain peoples a spiritual fissure of the highest worth. We are perceiving for the first time the rarest virtues and gifts. It is incredible — they were always there among us but unknown to most of us. Julia Greeley's precious heritage to Denver and Colorado remained hidden. The unveiling of the truth and goodness of her Nazareth-like life makes her biography profoundly evangelical. Through In Secret Service of the Sacred Heart, we are discovering something that amazed her contemporaries everyday on the streets of old Denver. In Julia Greeley's wounded and weeping eye, people sensed that they saw a rare beauty. Her passing by was like the effect of seeing a hugely extended snow banner flying off of a Rocky Mountain summit. She stopped people in their tracks. They were filled with wonder. Her countenance unearthed a hidden grace of the highest value."
+ J. Francis Cardinal Stafford
Major Penitentiary emeritus, Apostolic Penitentiary
"The story of Julia Greeley is a fascinating one. The evidence regarding her spiritual greatness as provided by very many people in this book is compelling. And these witnesses did not conspire together to write. In Secret Service of the Sacred Heart should be read by many. May it be a sign of more attention to this Denver 'angel of charity'."
+ Francis Cardinal Arinze
Prefect emeritus, Congregation for Divine Worship and  the Discipline of the Sacraments
"'If you are what you are meant to be, you will set the world on fire'." These words of St. Catherine ofSiena may be beautifully applied to Julia Greeley, a woman, who from the world's standards had little to nothing going for her. Born a slave, half blind, poor, the object of racism, and alone, Julia simply lived the Gospel of Jesus Christ, and loved. Even though she had very little of the world's material blessings to share, she gathered what she could and shared all that she had from a heart completely transformed by Christ. Hers is a story we need to hear, because in the example of Julia we are each left without excuse, and even more with a piercing example of how to love God by loving our neighbor. May her life inspire us and her prayers draw us ever closer to the God who gave all to save us."
Professor Curtis Martin, president & founder, Fellowship of Catholic University
Students; consultor, Pontifical Council for Promoting the New Evangelization
"I found In Secret Service of the Sacred Heart a fascinating document. Miss Julia Greeley was an amazing child of God. I appreciate the tremendous effort Fr. Blaine and many others have poured into collecting information, sorting fact from fiction, providing insight into Miss Greeley's spiritual life, and providing testimony from the Gilpin vs. Gilpin court case. I also appreciate that the book examines the question of canonization."
Donna M. Auguste, president & founder, Leave a Little Room Foundation,
a Christian global outreach ministry
ALSO SEE…
Reviews by: Craig Bowman, Jean Torkelson, Nissa LaPoint